Webinar S2 No. 5
An interview with Lebrecht Hesse: Bridging The Gap Between Africa and The Caribbean
Lebrecht Hermann Hesse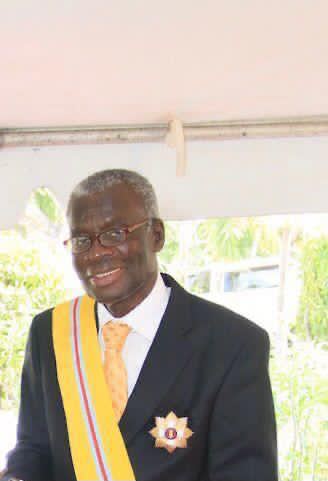 Born in Ghana, Mr. Lebrecht Hesse is a distinguished public servant who in his decades long career successfully bridged the gap between Africa and the Caribbean. He studied law at the University of Ghana and legal drafting at the University of Ottawa in Canada. He began his legal career at the Ministry of Justice in Ghana and later at Parliament House in Ottawa. He then worked for the Commonwealth Fund for Technical Cooperation in both The Gambia and Antigua. He rose to become the Solicitor General of Antigua and Barbuda. A position that he held for many years, finally retiring in 2009.
Webinar S2 No. 4
An interview with Dr. Serge Attukwei Clottey: From Accra to Coachella
Dr. Serge Attukwei Clottey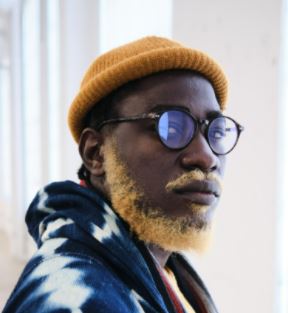 Serge Attukwei Clottey (b. 1985) is known for work that examines the powerful agency of everyday objects. Working across installation, performance, photography and sculpture, Clottey explores personal and political narratives rooted in histories of trade and migration. Based in Accra and working internationally, Clottey refers to his work as "Afrogallonism", a concept that confronts the question of material culture through the utilisation of yellow gallon containers.
Cutting, drilling, stitching and melting found materials, Clottey's sculptural installations are bold assemblages that act as a means of inquiry into the languages of form and abstraction. Utilising flattened Kuffuor gallon, jute sacks, discarded car tires and wood pieces, he forms abstract formations onto which he inscribes patterns and text. In doing so, he elevates the material into a powerful symbol of Ghana's informal economic system of trade and re-use. While some surfaces resemble local textile traditions such as Kente - a key reference in west African Modernism throughout the 20th century - others refer to barcodes and feature Chinese characters in reference to the emergence of new power structures in Ghana.
In Clottey's drawings, the artist explores a formalist approach, depicting disjointed figures and faces, not unlike the visions of nude women under Cubism, a European movement which drew heavily from traditional African tribal sculpture.
Webinar S2 No. 3
An interview with Samantha Tross: Blazing a Trail for Diaspora Women
Samantha Tross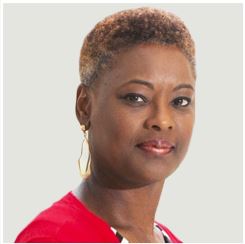 Miss Samantha Tross is a Consultant Orthopaedic Surgeon practicing in London.  She specializes treating conditions of the hip and knee and was the first black female to become a Consultant Orthopaedic Surgeon in the UK. In 2018, she scored another first by becoming the first woman in Europe to perform Mako robotic hip surgery. She is currently the Lead orthopaedic surgeon at Ealing Hospital.
She was born in Guyana, South America and came to England aged 11. She graduated from University College London in 1992. Her basic Surgical training was on the Royal London rotation and higher surgical training on Guys & St. Thomas Hospitals rotation. She subsequently undertook fellowships in Toronto, Canada and Sydney, Australia.
Apart from her clinical work Miss Tross is an Educational Supervisor overseeing the training of junior doctors in her Trust.  She is an Associate Editor of the Journal of Medical Case Reports and recipient of a Black British Business Award for her mentoring and promoting science and medical careers to her community. 
Miss Tross is an examiner for the Imperial College Medical school surgical finals examination and overseas examiner for the University of the West Indies Medical School in Trinidad & Tobago She is also an Associate Professor in Orthopaedics for the American University of the Caribbean, St Maarten.
Recognising the lack of diversity in surgery, Miss Tross has lectured on this topic at the British Orthopaedic Association conference, Association of Surgeons of Great Britain and Ireland conference and more recently at the recent Association of Surgeons in Training conference in March 2020. She was part of the Diversity Review panel for the Royal College of Surgeons of England, whose report was recently published. Miss Tross sits on the diversity committee for the British Hip Society.
Miss Tross is an Ambassador for the BAME Health Collaborative, an organisation involved in developing strategies and policies, scrutinising national guidelines and collating data relevant to the healthcare of the BAME community. 
Miss Tross has been profiled in a career series by Verna Wilkins, that is part of the national curriculum for schools and is included in the Black Powerlist of 100 most Influential Black Britons, since 2009. She was one of 15 black female leaders profiled in a photographic exhibition commissioned by the Black Cultural Archives in collaboration with JP Morgan Bank. Miss Tross was featured in Tatler's 100 most Influential doctors in the UK in 2013 and 'Passion and Purpose' by Praise Matemavi, profiles of 72 black female surgeons worldwide.  She was the recipient of the WINTRADE Award for Women in the Public Sector in 2019.
Outside of work, Miss Tross enjoys travel, dancing and fine dining.
Webinar S2 No. 2
Webinar: Lessons in Cultural Diversity with Lisa Mensah
Lisa Mensah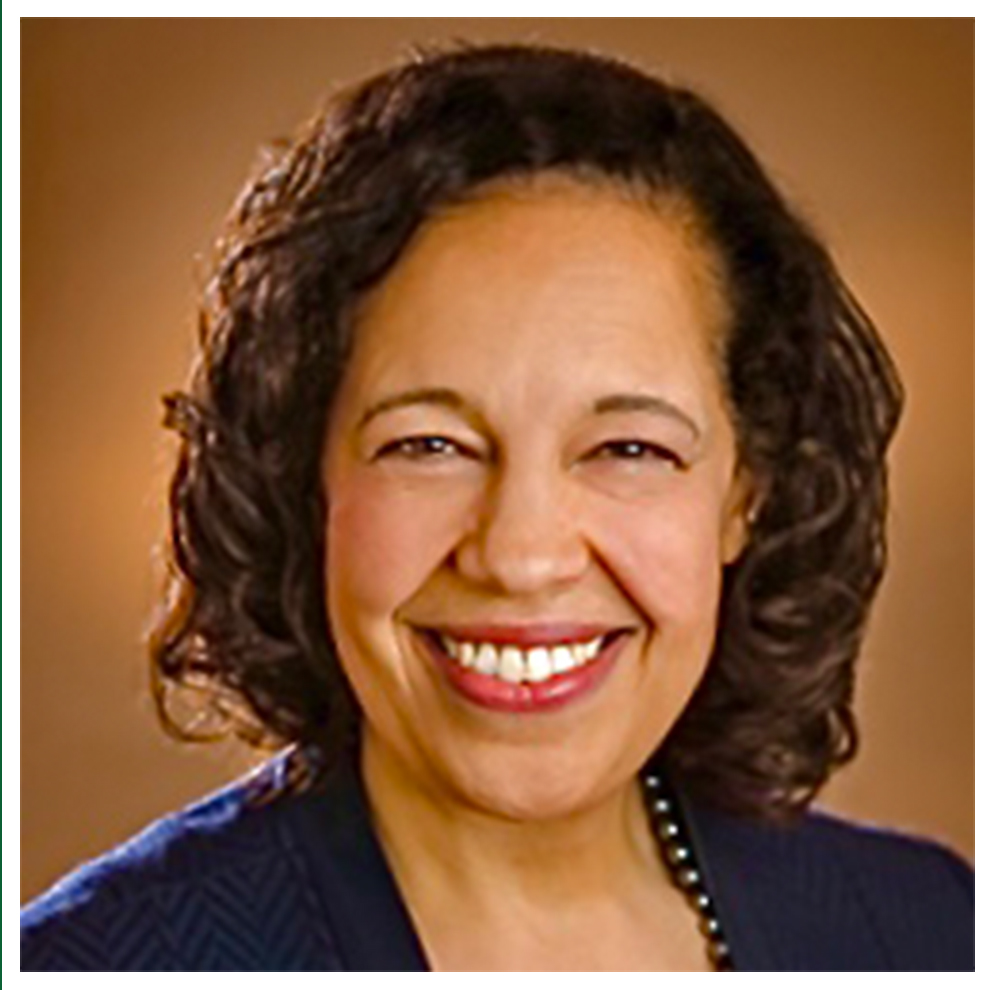 Lisa Mensah is a U.S. citizen who has led the Opportunity Finance Network as President and CEO since March 2017. As President and CEO of Opportunity Finance Network, the nation's leading network of Community Development Financial Institutions (CDFIs), Ms. Mensah expands sources of capital and provides greater visibility for CDFIs.
In 2014, Ms. Mensah was nominated by President Obama and confirmed by the U.S. Senate for the position of Under Secretary for Agriculture. In this role, she managed a loan portfolio of $215 billion, directing annual investments of $30 billion in critical infrastructure for rural America. She founded the Initiative on Financial Security at The Aspen Institute where she was also an Executive Director. She is an expert in using financial tools to improve the economic security of the working poor and she has worked extensively on small and micro business development, housing, and financial and savings policy.
Ms. Mensah began her career in commercial banking at Citibank before joining the Ford Foundation where she was responsible for the country's largest philanthropic grant and loan portfolio of investments in rural America. She is a member of the HACSA USA Board of Trustees and she serves on the Board of Fidelity Bank Ghana Limited. Ms. Mensah holds degrees from Harvard University and Johns Hopkins University Paul H. Nitze School of Advanced International Studies.
Born in Oregon, Ms. Mensah is the daughter of an immigrant from Ghana and a former Iowa farm girl.
Webinar S2 No. 1
Webinar: Breaking Down the African Continental Free Trade Agreement with Ambassador Kwesi Quartey
Ambassador Kwesi Quartey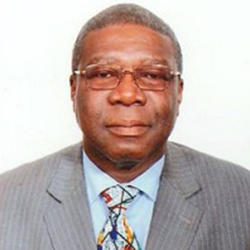 H.E. Ambassador Kwesi Quartey, is a Ghanaian national with over 35 years of experience as a diplomat. He is the former Deputy Chairperson of the African Union. Prior to his role at the African Union, Ambassador Quartey served in various capacities in Ghana's Embassies and High Commissions in Cotonou, Cairo, Brussels, Havana, and London.
He was also the Deputy Permanent Representative of the Ghana Mission to the United Nations in New York. Under the former President of Ghana, John Mahama's government, Ambassador Quartey began as the Deputy Foreign Affairs Minister and was later promoted to the role of Secretary to the President of Ghana. Ambassador Quartey has extensive experience in the area of financial/economic negotiations with the European Commission, expertise in foreign policy, investments and providing legal advice on Administrative and International Law in his previous role with the Provisional National Defense Council (PNDC) for the State Committee for Economic Co-operation.
He holds a Bachelor of Laws degree honours from the Faculty of Law of the University of Ghana, he has a Barrister and Solicitor of the Supreme Court of Ghana certification and he is a registered notary public.